---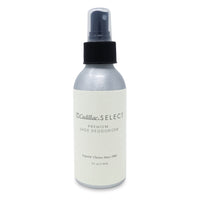 Cadillac Select Premium Shoe Deodorizer utilizes the antimicrobial power of eucalyptus and tea tree oils to eliminate odors at the source, instead of simply masking them. Select Premium Shoe Deodorizer kills odor-causing bacteria and fungus in shoes, boots, gym bags, and anywhere else odors may arise. Our all-natural, non-toxic formula is gentle and safe to use on all luxury footwear and accessories.
ALL-NATURAL ODOR ELIMINATOR: The antibacterial and anti-fungal properties of the eucalyptus and tea tree oils found in our deodorizer work all day long to kill odor at its source, instead of simply masking it.

100% ALL-NATURAL & NON-TOXIC: Our all-natural and non-toxic formula is safe to spray directly on your feet, keeping them fresh and odor free!

EXTRA STRENGTH: Our deodorizer is formulated to handle even the worst odors. Effective on all athletic shoes and equipment, no matter how strong the smell.

USE WHEREVER ODORS ARISE: Not just for shoes - Great for use on gym bags, workout equipment, lockers, and more!

MADE IN THE USA: Cadillac is proud to produce all Select Shoes Deodorizer in the United States of America.
Directions: Shake well before using. Spray as needed to eliminate odors. Do not saturate. Allow drying before use.