---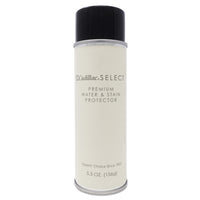 A silicone-free protector that will preserve and protect your leather goods. Select Protector creates an invisible, breathable barrier to protect against dirt, UV-Rays, water and stains. Safe for all types of leather including suede. Cadillac Select Protector will keep your leather looking good for years to come.
INVISIBLE LAYER OF PROTECTION: Defends your footwear against stains from water, dirt, oil, and more!

KEEP YOUR FEET DRY: Our protector creates a barrier to ensure that water cannot pass through your footwear. This protective coating will keep your feet dry in all conditions.

SILICONE-FREE: Our time tested formula is not only invisible but also breathable. Other protectors contain silicone, which suffocates your material and shortens its lifespan. Our protector does not affect breathability allowing your accessories to live a long happy life!

SAFE FOR ALL MATERIALS: Easy to apply water based protector, making it safe for use on all materials including leather, suede, nubuck, nylon, polyester, canvas, and synthetics.

MADE IN THE USA: All of Cadillac's products are made in the United States. We take pride in our manufacturing process as well as our customer service.
Directions: Apply on clean and conditioned leather. We recommend using select leather lotion and select cleaner before apply the protector. Always test on a inconspicuous spot before applying to the entire area. Hold the bottle away from the surface and spray evenly. Do not saturate. Allow to dry before use.