---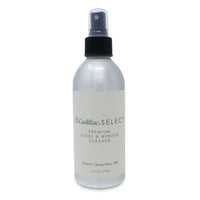 REMOVES STAINS: Works great on all suede, nubuck, roughout leather, and fabric. Cadillac Select Suede & Nubuck Cleaner removes all grime, dirt, oil, and water stains to keep your favorite shoes or accessories looking their best.

CLEANS AND CONDITIONS: Our cleaner is specially formulated to condition and soften while it cleans. This leaves your suede and nubuck items refreshed and adds to the longevity of your shoes and accessories.

FAST DRYING, NO RINSE, RESIDUE FREE: Cadillac Premium Suede and Nubuck Cleaner dries quickly leaving nothing behind but a beautiful, stain-free surface.

USE WITH ALL SUEDE & NUBUCK ITEMS: Ideal for cleaning chukka boots, dress shoes, sneakers, heels, hobo bags, luxury handbags, jackets, hats, and any other suede and nubuck products.

MADE IN THE USA: Cadillac is proud to produce all Cadillac Select Premium Suede & Nubuck Cleaner in the United States of America.