---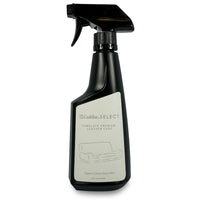 A complete leather care spray perfect for all leather surfaces including shoes, boots, wallets, belts, handbags, purses, jackets, couches, chairs, car interiors, and more. Once applied Cadillac Select Complete Premium Leather Care works to nourish your leather products, replenishing natural oils, and protecting against water spots and cracking. Consistent use of our leather care spray will extend the life of your favorite leather products and help them maintain a beautiful, luxurious appearance
COMPLETE PREMIUM LEATHER CARE: Perfect for all luxury leather products such as shoes, boots, wallets, belts, handbags, purses, jackets, couches, chairs, car interiors, and more.

PREVENT WATER SPOTS AND LEATHER CRACKING: Once applied Cadillac Select Complete Premium Leather Care works to nourish your high end leather products, replenishing natural oils, and protecting against water spots and cracking.

WAX FREE FORMULA: Our leather care spray will not harden your leather products. The wax free formula is perfect for keeping leather in its optimum state for a better look and feel overall.

TREAT YOUR LUXURY LEATHER RIGHT: Your high end leather products deserve high end leather care. Consistent use of our leather care spray will extend the life of your favorite leather products and help them maintain a beautiful, luxurious appearance.

MADE IN THE USA: Cadillac is proud to produce all Cadillac Select Complete Premium Leather Care Spray in the United States of America.
Directions: Shake well. Always check for colorfastness in a hidden area before use. Spray area to be conditioned liberally and rub in using a clean cloth. Let dry and buff. Repeat as necessary. Do not use on suede, rough-out, or napped leathers.